Malibu Surf School Bali is simply the best surf school in Balangan Beach . Our attention to detail is second to none, ensuring you have everything you need to make your surf with us beyond amazing, and our friendly instructor is with you every step of the way!
If you are eager to learn surfing we have various relevant types of surf lessons for you. Take private, semi-private lessons, kid lessons , group lessons, surf guiding class or our other lessons at any level. Whether you've never surfed before, we will teach you all the basics and make sure you will have fun riding your first waves . We're situated at Balangan, Bali's premier surf destinations and sister's break of Bingin, Padang-Padang, Uluwatu , Jimbaran , Dreamland & Nusa Dua.
With white sand & coconut trees, Balangan beach is one of the most beautiful beach of Bali .
Aside from being renowned native surfer in the island, Edo has a long history of sharing his love of surfing with others. 
Edo was taught how to surf at a young age on the rolling waves in the area where he gained his propensity for teaching his lifelong passion.
Edo has learned and continues to surf in diverse spots in Bali. That is why with Malibu Surf School Bali, all of our lessons are carefully selected suitable for different levels and weather condition.
Whether you are a first time surfer ready to catch your first wave or an experienced surfer looking to improve your skills, Malibu Surf School Bali offers a fun, safe and rewarding learning experience for everyone.  
Born in Java , Ajib has been crazy about surfing since he was a little boy.

Ajib loves to share his passion and knows how to make you feel confident on the waves .
He will make sure you learn all the techniques & have the best time surfing with Malibu Surf School Bali.
For the first lesson, we will begin with a 30 minutes run-through theory, safety guidelines and warm up by the beach. Followed by 1,5 hours surf session in the water.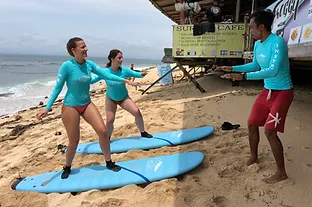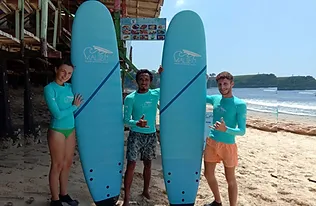 We take pride in providing our guests with the best gear accessible for all levels in the best spot of Bali!
Selected high quality equipments suited to your abilities from surfboards, rash vest, booties to face zinc
Selections of Surfboards, Funboards, Shortboards and Longboards
For beginners we use soft stable surfboards which are easy to balance, paddle, stand & surf for your first waves!
​​Complimentary pick up transport around Bukit area : Balangan, Dreamland, Bingin , Jimbaran, Padang-Padang, Uluwatu & Nusa Dua
Lesson time depends on swell & tide conditions
You don't need much as we include almost everything you need!  Just make sure you bring the following along on your surf tour:
A Towel & Swimwear
Huge Smile
WE HAVE SURFBOARDS, FUNBOARDS, SHORTBOARDS & LONGBOARDS
Whether you are beginner, intermediate or advanced level of surfing, we have the right equipment for you and for a fun day surfing in the best spot of Bali !