Ready to have fun surfing with us ?
Malibu Surf School Bali is located in Balangan Beach, one of the most beautiful beach in the South of Bali.
Our warm and welcoming professional native instructors provide surf lessons that gently accessible for all levels, age and ability to ensure safety and quality.
Surfing is fun & easy !
Malibu Surf School Bali offers surf lessons for beginners , intermediate & advanced surfer who want to go one step further and refine their technique & style .
Browse further to learn more about our surf lessons , guiding classes & surf packages to improve your skills.
​We love to surf & teach in Balangan Beach but depending on the conditions, we also offer surf lessons in Jimbaran, Kuta , Dreamland, Padang-Padang, Uluwatu, Nusa Dua .
Selamat Datang di Bali!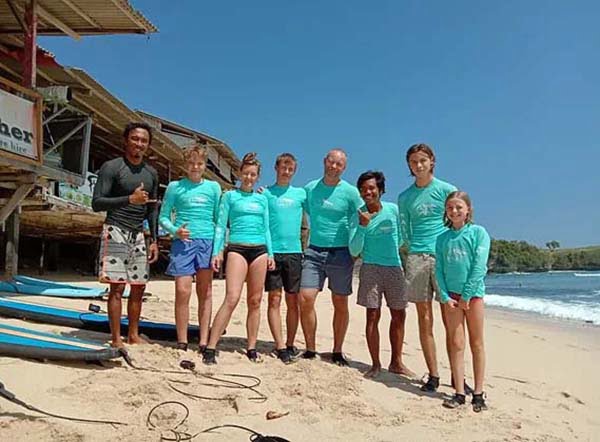 Beginner level 1
You will learn
Surfing basics
Safety essentials
handling the surfboard
Paddling technique
Pop-up technique
Beginner level 2
You will learn
Surf etiquette
Surfboard characteristics
Take-off & paddling
Stance on the surfboard for balance
Catching broke waves
Beginner level 3
You will learn
Catching green waves|
Paddling out & turtle roll
Understanding the line up
Start angling your take-off
Understand how to trim wave
Intermediate level 1
You will learn
Angling your take off to go left / right
Trimming on a wave
To improve your body movement for more balance
Choosing the right equipment
Generating speed on a wave
Duck diving
Intermediate level 2
You will learn
Improving yor positioning in the line-up
Improving your ability to read waves
Catch better quality waves at the right place
Generated speed
Basics of bottom turns and top turns
Intermediate level 3
You will learn
Improving your bottom turns
Improving your top turns
Maneuver such as cutbacks and snaps
Improving your positioning in the line-up to catch better waves at the best place
Balangan Beach, locally referred to as "Pantai Balangan", is one of Bali's most beautiful beach , featuring a gorgeous half-kilometre stretch of golden sand , palm trees and a reef with one of the longest left-hander breaks on the island.
Many thatch-roofed local warungs  sell cheap & tasty meals, snacks, refreshments, cold beers "bintang" . Chill on the sun beds , drink a fresh coconut and watch some amazing sunsets. Balangan beach has two different spots which makes it perfect for all surfers from beginners to professional surfers .
This surfing paradise located in the white stone hill area of south-western Bukit coastline, together with Balangan's sister breaks of Jimbaran, Dreamland, Padang Padang, and Uluwatu.
Absolutely recommending this surf school! They're so nice and teach Surfing in a way it so simple so you learn pretty fast how to surf! They take care of you and Support you All the time! I can truly recommend them to everyone who wants to learn Surfing! I came here twice, because of the great teacher. It Was so much fun. You will love it!
Antonio Gonzalez
2023-03-04
Contacte con Malibu Surf School a través de WhatsApp y di clases privadas con Najib durante mi estancia en Bali. Un gran profesional y mejor persona. Fuimos a muy buenos spots y corrigió mis malos hábitos surfeando!Sin duda, repetiría. Una gran escuela
Surfing school found by searching on Google MapsBoth of them were very nervous because it was their first time. But he taught me kindly and calmly, so I enjoyed surfing for the first time. I couldn't get a taxi after surfing, so I kindly drove us by motorcycle to the place where the taxi came. It's a pity that there are no surfing photos, but I had a satisfying time in every part.
I had fun during a lesson with malibusurfschoolbali will be back to have some more lesson definitely The instructors are so friendly Would recommended
Oliwia Dumnicka
2022-12-29
We had a very nice teacher, the classes are competitively priced.Enjoyed our surfing experience overall :)
My coach was najib. He was very kind, always gives me useful tips. He let me try his beautiful longboard too. He didn't rush me to surf on our scheduled day because it was too windy n waves were not great. He patiently waited until tomorrow n asked me if i wanna move to another surfing spot that has good swell /waves/wind that is suitable for novice surfer like me. Thanks najib we really appreciate you 🙏🏻
Highly recommend! Instructors were very patient and took good care of us newbies. Had tons of fun and great experience overall. P.S. especially LOVE the "chilling by the beach" part after coming back from the sea! Thanks guys!
Stéphanie clavie
2022-12-06
Meilleures leçons de surf j ai beaucoup progressé Encore merci à toute l'équipe pour votre gentillesse votre patience toujours avec le sourire sans oublier votre professionnalisme
Des profs au top. Merci pour cette journée de surf au top.