Ready to have fun surfing with us ?
Malibu Surf School Bali is located in Balangan Beach, one of the most beautiful beach in the South of Bali.
Our warm and welcoming professional native instructors provide surf lessons that gently accessible for all levels, age and ability to ensure safety and quality.
Surfing is fun & easy !
Malibu Surf School Bali offers surf lessons for beginners , intermediate & advanced surfer who want to go one step further and refine their technique & style .
Browse further to learn more about our surf lessons , guiding classes & surf packages to improve your skills.
​We love to surf & teach in Balangan Beach but depending on the conditions, we also offer surf lessons in Jimbaran, Kuta , Dreamland, Padang-Padang, Uluwatu, Nusa Dua .
Selamat Datang di Bali!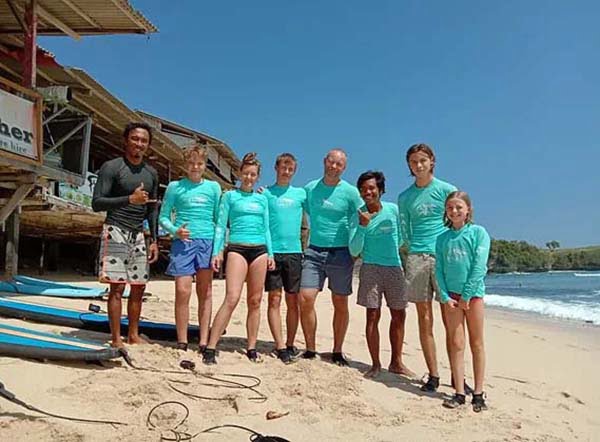 Beginner level 1
You will learn
Surfing basics
Safety essentials
handling the surfboard
Paddling technique
Pop-up technique
Beginner level 2
You will learn
Surf etiquette
Surfboard characteristics
Take-off & paddling
Stance on the surfboard for balance
Catching broke waves
Beginner level 3
You will learn
Catching green waves|
Paddling out & turtle roll
Understanding the line up
Start angling your take-off
Understand how to trim wave
Intermediate level 1
You will learn
Angling your take off to go left / right
Trimming on a wave
To improve your body movement for more balance
Choosing the right equipment
Generating speed on a wave
Duck diving
Intermediate level 2
You will learn
Improving yor positioning in the line-up
Improving your ability to read waves
Catch better quality waves at the right place
Generated speed
Basics of bottom turns and top turns
Intermediate level 3
You will learn
Improving your bottom turns
Improving your top turns
Maneuver such as cutbacks and snaps
Improving your positioning in the line-up to catch better waves at the best place
Balangan Beach, locally referred to as "Pantai Balangan", is one of Bali's most beautiful beach , featuring a gorgeous half-kilometre stretch of golden sand , palm trees and a reef with one of the longest left-hander breaks on the island.
Many thatch-roofed local warungs  sell cheap & tasty meals, snacks, refreshments, cold beers "bintang" . Chill on the sun beds , drink a fresh coconut and watch some amazing sunsets. Balangan beach has two different spots which makes it perfect for all surfers from beginners to professional surfers .
This surfing paradise located in the white stone hill area of south-western Bukit coastline, together with Balangan's sister breaks of Jimbaran, Dreamland, Padang Padang, and Uluwatu.
Yevochka Pigareva
2023-11-30
We recently took a class at this surfing school, and it was absolutely amazing. We enjoyed our first experience. The teachers here are knowledgeable and skilled at describing the techniques. Even as beginners we were able to catch waves and stand on surfboards so we decided to take another class the next day, and once again, we're absolutely thrilled. Highly recommend this place! 😌🔥"
Super abwechslungsreicher Surfkurs!!Haben zu zweit den Surfkurs über 5 Tage mit einem Instructor gebucht (nähere Infos zu Preisen etc. in den gespeicherten Instagram Storys der Surfschule). Hatten eine top Zeit, obwohl wir zwei unterschiedliche Surflevel hatten. Am ersten Tag haben wir eine Wiederholung der Basics zum Surfen bekommen und wurden danach bei den kleineren Wellen eingeführt. Je nach Fahrkönnen wurden uns dann die (für das Level) passenden Spots gezeigt, wo wir surfen konnten. Uber die 5 Tage waren wir an 3 verschiedenen Stränden (transport inklusive). Am Abend jeweils davor wurde uns die beste Uhrzeit mitgeteilt um zu starten. Von den Tagen selbst gab es jeweils eine Videoanalyse, wodurch man seine Fehler nochmals besser sieht. Videos bekommt man nachträglich zugeschickt. !!Großer Pluspunkt!!: Die Lehrer hatten an dem Tag keinen Stress die Stunden sofort durchzuziehen, sondern es wurde wirklich darauf geschaut, dass gute Verhältnisse am Spot selber sind. Man hat also auch mal 20min gewartet vor man ins Meer gegangen ist und konnte so gut die Lage beiläufig für sich selbst anschauen.Auf Fragen wurde jederzeit eingegangen und wenn die Lehrer Fortschritte gemerkt haben, wurden weitere Tipps gegeben, was man als nächstes ausprobieren kann. Ich selbst war am Anfang skeptisch, weil ich mir Sportarten immer lieber selbst beibringe. Über die 5 Tage wurde ich allerdings eines besseren belehrt, dass es durchaus Sinn macht, auch mal einen Lehrer zu nehmen!
Ari was an amazing instructor and split his time between the two of us the whole session! Had great chat and was very encouraging from start to finish :)
Me (beginner) and my two friends (beginner and intermediate) got semi-private and private lessons for three days and it was a great experience! The instructors could give some valuable feedback and took very good care of us throughout the classes. They know exactly which spots to take you and are very friendly and cheerful all the time :) It was a very nice experience with malibu surf school, I can only recommend it. Special thanks go to Malibu and Sam Sam! Will definitely be back for some more surfing time :)
Ann-Kathrin Meß
2023-10-18
We had a great time with Malibu surf school. They chose spots and boards according to our level and were yet keeping an eye on challenging us to improve constantly. They gave helpful feedback and were looking out for us while spreading good vibes.
I had an incredible experience with Malibu Surf School! The instructors were not only skilled surfers but also fantastic teachers. They created a supportive and encouraging environment for all skill levels. The lessons were well-structured, focusing on safety, technique, and improving our confidence on the waves. The equipment provided was top-notch, and the small class size ensured personalized attention. By the end of the course, I felt a remarkable improvement in my surfing abilities. If you're looking for a surf school that combines expert instruction with a fun and positive atmosphere, this is the place to go!
I got private lessons here and they were amazing! The best I've had so far.They give you small little tips to enhance your surfing and also provide you with video analysis after the session. What more could you ask for?
I enjoyed the lesson - great instructors who make great jokes, understand waves and can explain paddling technics & give other advices - thanks for great experience!